What the traffic light system means for us
Hanmer Springs Thermal Pools and Spa is gearing up for another busy summer where everyone can feel safe.

The government has announced that on December 3, the country will move into its COVID-19 Protection Framework or the traffic light system. Under the framework, businesses who only welcome vaccinated visitors can operate as freely as possible.

It's important that as a complex that is a significant drawcard to Hanmer Springs and the Hurunui, we adopt the framework so we can remain open and keep our visitors safe. This will replace the current level 2 system.
At what traffic light colours can we open?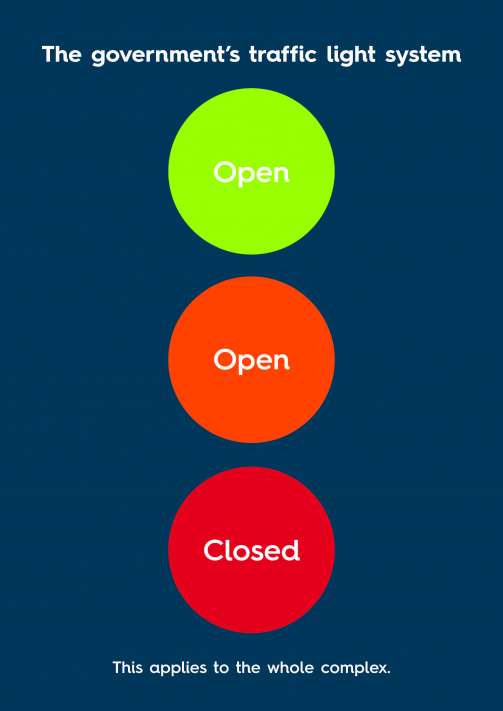 So from December 3 at traffic light orange, all visitors to our place will be required to:
Be double vaccinated (for those aged over 16) and show their government 'My Vaccine Pass' on arrival to the complex.
Sanitise their hands and sign in using the NZ COVID Tracer App.
Wear masks in all indoor areas – including reception, changing rooms, the iSITE, Tea Kiosk and The Spa.
Comply with any additional public health measures (including social distancing) that are in place at the time they visit.
We're serious about protecting everyone and that means too that all our staff and contractors are vaccinated.
Do you still need to book on weekends and school holidays?
No, the good news is that from 3 December at traffic lights green and orange there will be no need to book. Under the current guidelines, at traffic light red we will be closed.
What to do if you are unable to visit due to the new requirements:
If you are affected by the framework and can no longer use your annual swim pass, package, or forward booking, we are happy to discuss a refund with you.
Please be patient while we adopt the new traffic light system. There may be delays in trying to contact us and in entering our complex. We look forward to seeing you soon for a massive, safe and fun summer.

If you have any questions, please don't hesitate to get in touch by emailing info@hanmersprings.co.nz