Let your hair down
Fun for all ages.
All children under 8 years old must be actively supervised by a parent or caregiver 16 years and over at all times.
Children under 5 must be within arms reach of the parent or caregiver 16 years and over at all times.
Conical Thrill & SuperBowl riders must be 5 years old and 1.2 metres tall, and riders must ride two to a raft. This is a health & safety requirement.
Hydro Slides have a height requirement of 1.2 metres tall.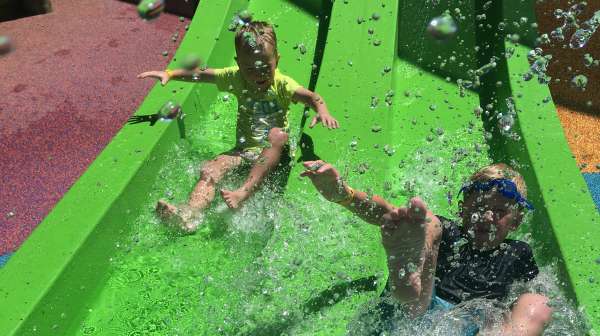 FUN FUN FUN!
The brand new Aquaplay now sits to the side of the children's pool and offers three slides, with hours of fun to be had in the waterplay area. All kids love to climb, so we have installed a gradual wall to access the slides.
With beach access, this is the perfect place for children 8 years and under to explore!
Close Panel
The resort style access of our freshwater lap pool makes it easily accessible, and at a comfortable 28 degrees, diving in is a great refresher between our hotter thermal pools.
Surrounded by sun loungers, there are plenty of places to relax and enjoy the action. You'll see kids of all ages practice their diving, while others splash about honing their handstands.
Or get in a little exercise with our roped off lanes, great for a few laps to reawaken the body.
Close Panel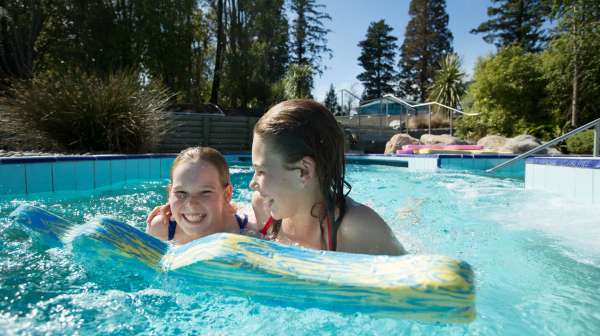 The lazy river is always a fun focal point. Float about blissfully or race the kids around and around, laughing as you try to beat the current.
A great way to tire the kids out!
Close Panel
The kids will love the cave hidden behind the waterfall and the popular Tuatara slide.
Watch them race through the shallows as you enjoy sprawling on the grassy area or relaxing at a picnic table.
Watch out for the dumping bucket high above! A favourite game is dragging unsuspecting parents underneath it so they are soaked by the sporadic cascades of warm water… you have been warned!
The water is warm and you'll find plenty of adults relaxing in the shallows as they keep a close eye on the kids.
Close Panel