Soothing New Zealand Hot Springs
Every drop of our thermal water is heated by Mother Nature and infused with minerals – a process that takes 173 years. Ease your aching muscles with our water spouts and jets, soak in the silky-smooth sulphur pools or bask in gentle rapids and natural rock pools. All with a stunning backdrop so you can simply sit and watch the world go by.
The five new pools will sit among river boulder terraces and native gardens on what is currently a grassed area next to the Rainbow Pools.
They'll be linked by waterfalls and waters cascading over the rocks so will be a peaceful place to relax and soak while enjoying the water sounds surrounding you.
The bottom pool will have beach-style access making it easy for everyone to use.
View Comparison Table
Close Panel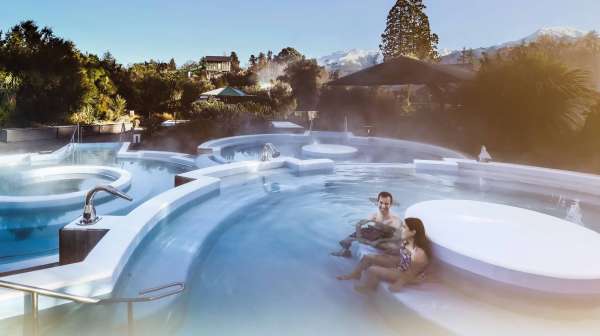 AquaTherapy was designed in Europe. It's attributed with increasing flexibility and strengthening muscles, improving balance and agility, decreasing joint swelling and pain and helping with a number of medical conditions.
It's no wonder our AquaTherapy pools are extremely popular.
You'll see a look of complete serenity on people's faces as they dip underneath a cascading waterfall, cosy up to powerful water and air jets or sit and soak in the soothing waters feeling muscle tension melt away.
Each of our three pools uses different fundamentals of AquaTherapy. One features tumbling waterfalls and water spouts, the second has a series of massaging water jets, and the third has powerful water and air jets.
Water flows between the pools creating a relaxing, bubbling sound that adds to the sense of escape, allowing you to transition through each element of AquaTherapy.
Seriously, put this on your 'must do' list.
View Comparison Table
Close Panel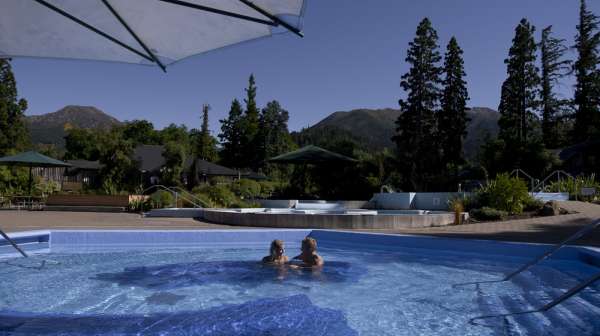 The Hexagonal Pools (or the 'Hex' pools as we fondly call them) are the oldest pools in our complex but some of the most popular.
They offer plenty of shade with giant canvas umbrellas over each pool – but rest assured, sun lovers, there's ample space to bask in the sunshine too.
You can take in stunning views of Conical Hill, Mount Isobel and Mount Dunblane. On clear evenings, the night sky from these pools offers a brilliant display.
You'll be surprised at who you will meet sitting beside you. Tourists come from all over the world so these pools are a great place to swap travel stories, tips or meet a local.
View Comparison Table
Close Panel
The cleverly designed central island ensures there's plenty of seating for you to enjoy. Surrounded by New Zealand native gardens, it's easy to find a quiet nook in here.
Listen to the gentle song of bell-birds attracted to yellow flowering Kowhai trees, while bright green pittosporum, hebe and tussock grasses ensure a stunning variety of texture and colour all year round.
View Comparison Table
Close Panel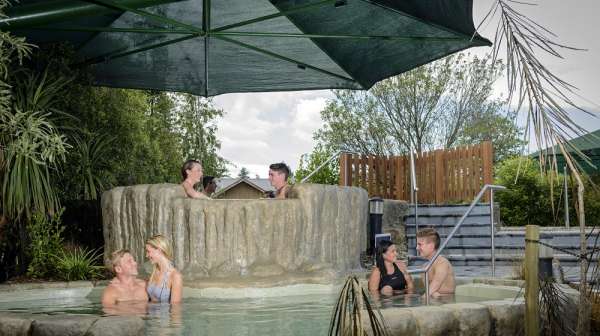 You'll love the silky feel of the mineral rich water, which is infused with sodium, chloride, boron, calcium and carbonate.
Internationally these waters are used to treat rheumatic conditions, paraplegia and can help heal bone fractures and soft tissue.
The water is completely natural. It comes straight from the nearby thermal bore (with no chlorine added) making these our hottest pools - ranging in temperature from 40 to 42 degrees Celsius. The heat means they're not recommended for pregnant women or babies and toddlers.
You'll need to stay hydrated here. Help yourself to a cool and refreshing shower after you've been in these pools - you'll find one beside the water fountain.
And don't forget to remove any silver jewellery before getting in as the natural minerals may tarnish it.
View Comparison Table
Close Panel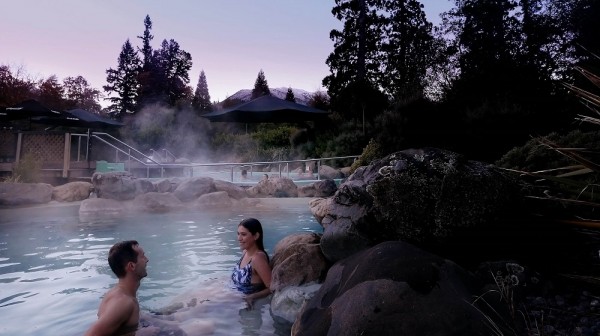 The rock pools are connected by gentle rapids and waterways, with native plants and flowers woven into the rock formations along the edges.
The bubbling rapids beckon children who'll quietly clamber over the rocks to find tucked away pools and calming waters while Mum and Dad relax and watch nearby.
Couples after a quiet, secluded soak will have no trouble finding their own little oasis with a range of nooks and spots tucked away.
Lie back and relax while you enjoy the birdsong from the surrounding native gardens.
View Comparison Table
Close Panel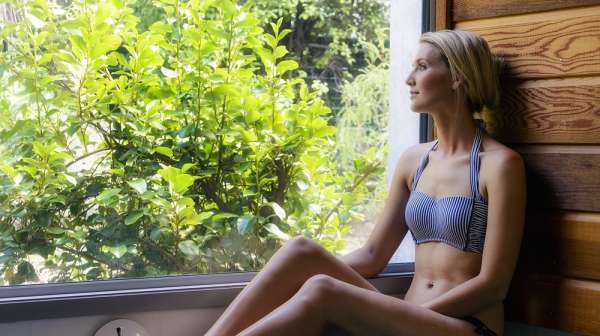 Escape to your own slice of tranquillity with our spacious and quiet private pools. Each features a European style wooden interior and garden views, so you can enjoy natural light while listening to the sounds of nature and the gentle flow of water with those closet to you.
View Comparison Table
Close Panel
Find the best pool for you.
Let us help find the best pool, by using the comparison table below.
| | Temp | Depth | Size |
| --- | --- | --- | --- |
| Five new thermal pools | TBC | TBC | TBC |
| Aqua Therapy Pools | 36-37° | 1.2m | 8m |
| Hexagonal Pools | 38-40° | 1.2m | 8m |
| Rainbow Pools | 37-38° | 1.2m | 8m |
| Sulphur Pools | 40-42° | 1.2m | 8m |
| Rock Pools | 34-36° | 1.2m | 8m |
| Private Pools | 38-40° | 1.2m | 2m |